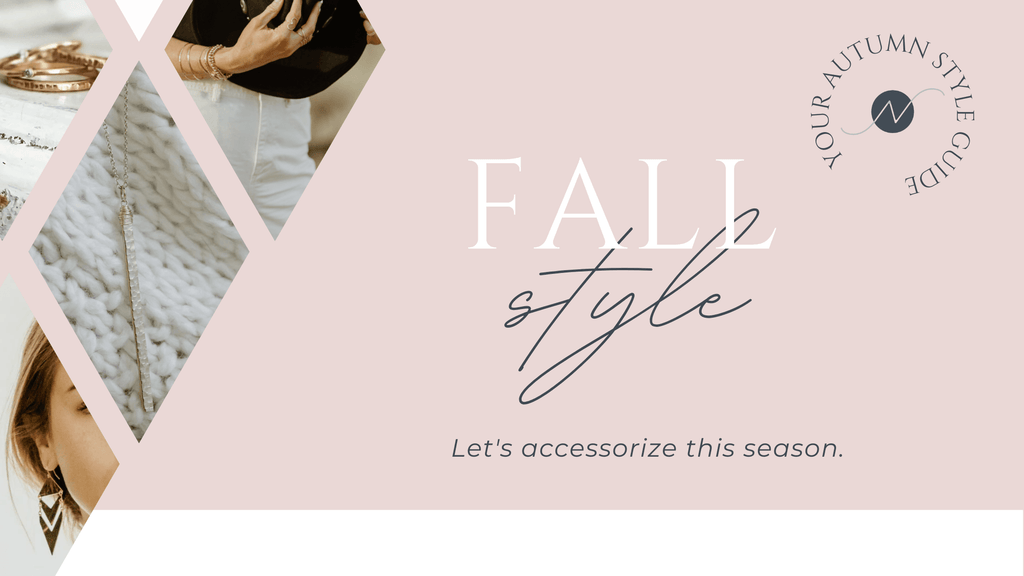 Hello, Autumn! As the season transitions, our style does too! It's time to get cozy, layer up, and accessorize accordingly. Fall fashion is full of possibility this year and we just cannot wait so, we put together our favorite looks and pieces exclusively for you. Flaunt it, ladies!
Jewelry Statements

This Fall, stand out! Statement pieces are all about being unique and bold. Add an extra pop to any outfit; from simple sweaters and skinnies to daring prints and patterns, statement pieces complete your look, every time.
Our picks:

Big Moon Necklace- This large gold pendant is hand-forged, looks gorgeous, and is versatile and memorable!

HARLOW Edge Earrings- Perfect for those who are passionate about their style and like to be ahead of the trends. Geometric shapes and glistening gold will be sure to turn heads.

HARLOW Resin Octagon Hoop Earrings- A fun chunky twist on resin hoops. Modernize any outfit in an instant.
Simple

Classic is key. Adding simple pieces to your look will bring out your softer side without sacrificing style. Simple pieces are perfect for that clean, minimalist attire. Go about your day with confidence, even if you're lounging in your fuzzy socks and yoga pants. Mix, match, and shine, babe!
Our picks:
Tiny Dot Choker-
You can't go wrong with a sweet, simple choker. Chokers are totally in this season and we're here for it. Pair with oversized sweaters and high necklines for added glow.
Daydream Earrings-
Sleek and sophisticated, slide them on for date night or a night out on the town.
Warrior Ring-
This simple double band stacker ring is dainty but mighty. Lightweight and fun, this handmade ring wears well with the fanciest of outfits or go casual with jeans and simple t-shirt. You can flip it around either way, to personalize this ring with your own style.
Gemstones

Connect with nature with natural gems and precious metals. Gemstones are gorgeous this time of year and are obviously stunning. Catch the light with clearer colors or intensify with dark, dramatic jewels.
Our picks:
I Am Earrings-
A single Herkimer Diamond placed in our organic claw setting creates big bling for such tiny earrings. Herkimer Diamonds are natural stones with freckles in them and can create the illusion they could be sun-kissed.
Gwyneth Necklace-
This necklace is the perfect accessory to dress up any look. A great piece to go from day-to-night, the Gwyneth Necklace is gorgeous, and you won't want to take it off.
Drop Earrings

As we begin to bundle up, drop earrings become the ultimate accessory. Perfect for those casual top knot days that may turn into happy-hour later!
Our picks:
Gabriella Earrings-
These earrings are perfect for dressing up your next ensemble. The detail, wrapping, and stone placement are breathtaking and will definitely be a talking point at your next social gathering. Our staff hand wraps the Gabriella Earrings - and they are made with love.
Isla Drop Earrings-
These earrings are lightweight, shimmery, and stylish. The Isla Drop Earrings are three inches of our Isla Chain on a ball post. They are an amazing accessory to wear with a ponytail, and the texture of the chain catches the light beautifully.
Razer Drop Wrap Earrings-
The Razer Drop Wrap Earrings will change up your regular hoop, or dangle earring, with its design and glimmer chain. The heart shape is a lovely accent, but only you can decide if you're a romantic or a heartbreaker.
Stone Drop Earrings-
Stone Drop Earrings are a new favorite! Perfect for those who love a small earring and understated bling.
Bold bracelets

Sometimes, we don't need to go all out with the ornaments, that's why bold bracelets are trending. Keep your look simple and add a subtle pop. You won't be disappointed.
Our picks:
Shield Cuff Bracelet-
Shield yourself from the stress of the world and keep your energy high while wearing our Shield Cuff Bracelet. This cuff is ideal for anything from date night to the board room.
Bold Bead Bracelet-
The Bold Bead Bracelet is an eye-catching statement piece that will upgrade every ensemble.
Layered chains

Chunky sweaters and lots of layers and we're not just talking about clothing! When it comes to necklaces, we keep things simple, sleek, and custom. Accentuate your neckline with layered chains. Cozy cardigans and Faux Furs look amazing with some added glam around your neck.
Our picks:
Muse Figaro Necklace-
Perfect for layering or on its own, this piece is drapes flawlessly over any top.
Pillar Necklace-
Purely an amazing touch of clean, sophisticated lines that can be accessorized with any outfit! This durable & hand textured bar is one of our favorites!
Unity Chain Choker-
Our linked Unity Chain Choker pairs perfectly with our Unity Chain Bracelet and looks lovely with other Nashelle designs.
Distinct Rings

Simple or statement, our rings are handmade and custom to what you desire. Personalize your ring with your choice of gemstone and metal. Our rings are beautiful on their own, and a fashionable accessory to stack with others.
Our picks:
Storm Ring- Each version of these spiraling handmade rings is completely unique. This fun style can be dressed up or down for any event!
Wander Edge Ring-
This ring is a total classic you won't want to take off. Our cuff ring at its finest with our Rough Oval Nugget. A unique take on a classic cuff ring.
Capture your own beauty and grace this Fall! Whether you're keeping it casual or can't wait to dress up, we hope to inspire you to look and feel your absolute best! Happy Fall, y'all!