Summer Layering Tips from Our CEO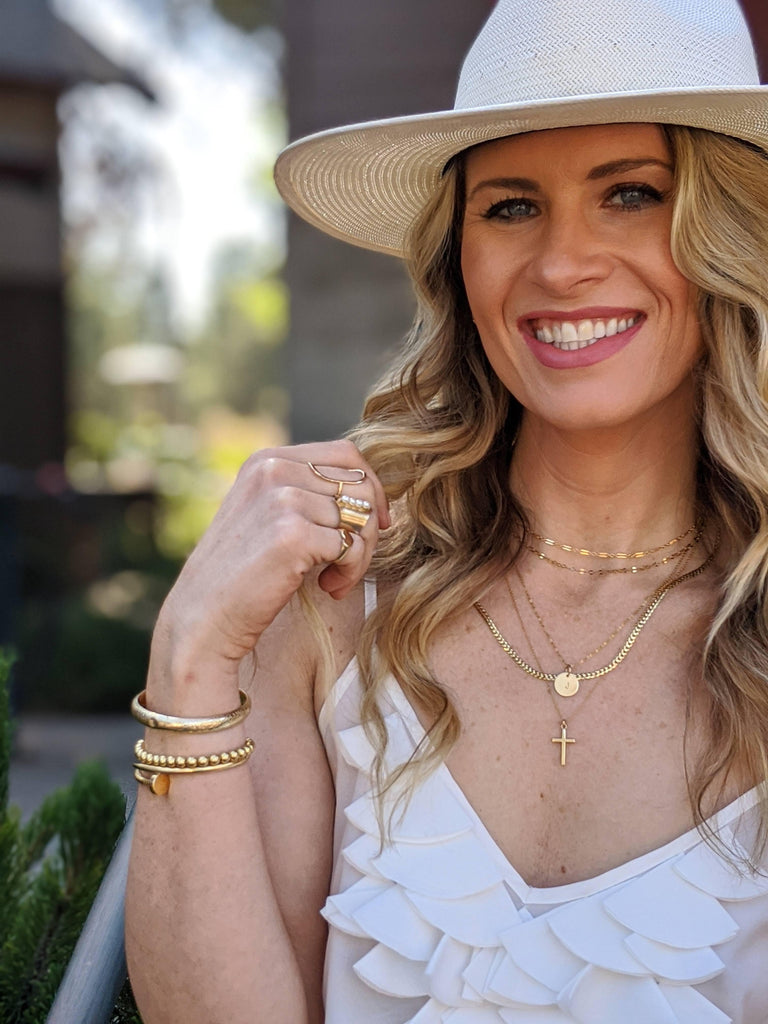 One of the best summer style secrets is how to layer your jewelry effortlessly. The perfect layering look is a combination of texture, balance, and confidence. Nashelle's CEO, Jennifer Rehmert, shares her best tips on layering necklaces, chokers, bracelets, and rings.
1.) Wear thick and thin pieces together.
Show off the diversity within your jewelry collection by pairing both masculine and feminine pieces. Embrace different weights and textures to create depth to your look. Wear your favorite statement necklace with a dainty chain of the same metal to perfectly color block your jewelry for your next special occasion.
2.) Add - don't subtract.
People tend to overthink layers, and it can deflect from their classic style. I layer-on necklaces, bracelets, and rings with my standard Michele watch I wear every day. By adding layers to your everyday personal style, you will become comfortable, and layering will become more natural to you.
3.) Embrace overlap and mixed textures.
It can be hard to pair jewelry together if you are wary of mixed consistency, length, and patterns of your pieces. Personally, I accept overlap and think it adds more dimension to your look. If you can space out your layering perfectly - go for it! But do not shy away from similar chain lengths - especially if they are different textures.
4.) Don't stop at necklaces.
One of my favorite ways to layer is with chokers and necklaces - but don't forget about bracelets and rings! There are rumors that you should stack in one category and wear simple, singular accessories elsewhere. I believe that you can have great style while layering on your neck, wrist, and hands. Try it out, and you will find a comfortable balance true to your style.
5.) Give old pieces a new look.
Try pairing an old necklace or ring with new styles and create a fresh look. Layering is a great way to give old pieces in your collection a regenerated purpose. Spruce up pieces you might have forgotten about with more recent purchases and send an entirely new message. 
6.) Wear the pieces that make you smile - all at once.
Don't be afraid to wear your favorite pieces of jewelry together. I feel my best when I put on my vintage bangle, beloved engagement ring, and new favorite Nashelle necklace. People feel most beautiful when surrounded by things (and people!) they love. Wear your favorite items together, and your layering will look effortless.