The Trend You Need: Permanent Jewelry!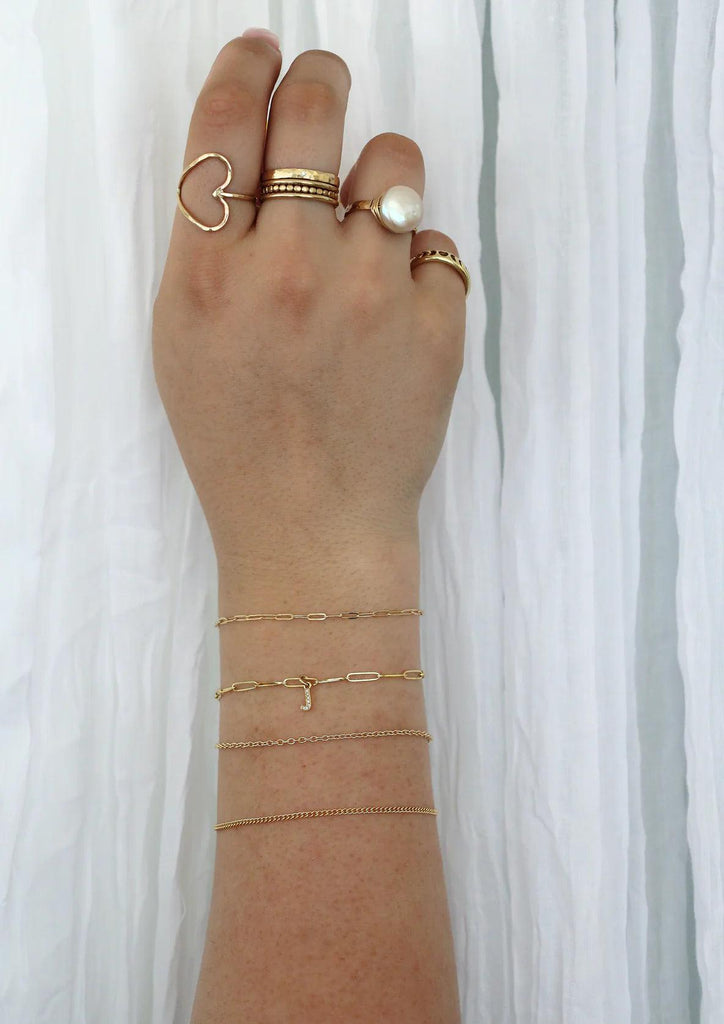 When you get a piece of Permanent Jewelry you're not only getting a piece you can wear forever, you are getting a one-of-a-kind experience that is perfectly tailored to you!
What is Permanent Jewelry?
Permanent Jewelry is Jewelry you can wear forever. It's a great way to show your style, commemorate an event, or give someone a gift they'll love forever! Our permanent bracelets are custom-fit to your wrist or ankle, then welded without a clasp- so they are designed to never be taken off!
With the bracelet being welded around your wrist or ankle you will get a piece that will stay on until you decide to remove it. These dainty chains create a seamless look without having a clasp, they're perfect for the minimalist in all of us!
With permanent jewelry, there are no worries about losing your favorite piece because they are now part of you.
Who is Permanent Jewelry for?
Permanent jewelry can be for anyone, but we love how permanent jewelry is a symbol of a special event or the permanence of a relationship or friendship. You can even get a permanent bracelet or ankle as a way to honor or celebrate a commitment you made to yourself.
We love that you can experience getting a permanent bracelet with your best friend, friend group, sister, or mom. With permanent jewelry there's something for everyone. 
Permanent Jewelry Options
We offer permanent jewelry in all styles including necklaces, bracelets, anklets, rings and toe rings (yes - there is something for everyone!).
You can choose from a variety of chain lengths, widths, and thicknesses. We have a wide selection of chains to pick from: 14k White and Yellow Gold, 14k Gold Fill, and Sterling Silver.
Once you pick out your desired chain, then you can further customize and personalize your piece of permanent jewelry with charms, diamonds, gemstones, initials, and more.
FAQs
How do I schedule an appointment for a permanent bracelet? 
Just click here (LINK) and book your permanent bracelet appointment for free and pay once you get you chain welded onto you.
How much is a permanent bracelet?
Because we price based on length, chain style, and if you add any personalizations prices will vary. As a starting base price you can expect to pay anywhere from $140 for 14k gold and $55+ for both 14k gold fill and sterling silver. Those prices do not reflect any personalizations. 
Do you take walk-ins?
We sure do, but we suggest you book in advance here (LINK) so you know you will get a spot. 
What if I can't make it into the shop?
For those who are not local or cannot make it into the shop, we do have our Permanent Bracelet Builder where you can customize and personalize your own bracelet or anklet. 
Can I remove the chain?
Because these are permanent pieces of jewelry they are not designed to be taken off, however, if you do decide you want to remove your piece of permanent jewelry you can use a pair of wire cutters or nail clippers at home or we can accommodate you in one of our locations. 
What if my bracelet or anklet breaks?
If your piece of permanent jewelry breaks, just bring it back into the showroom and we'll re-weld it on for a repair fee of $25. If you choose to add on another piece, we'll re-weld your broken piece back on for no cost. 
If you're ready to book your permanent jewelry appointment, schedule here. (LINK)