Our 2021 Jewelry Holiday Gift Guide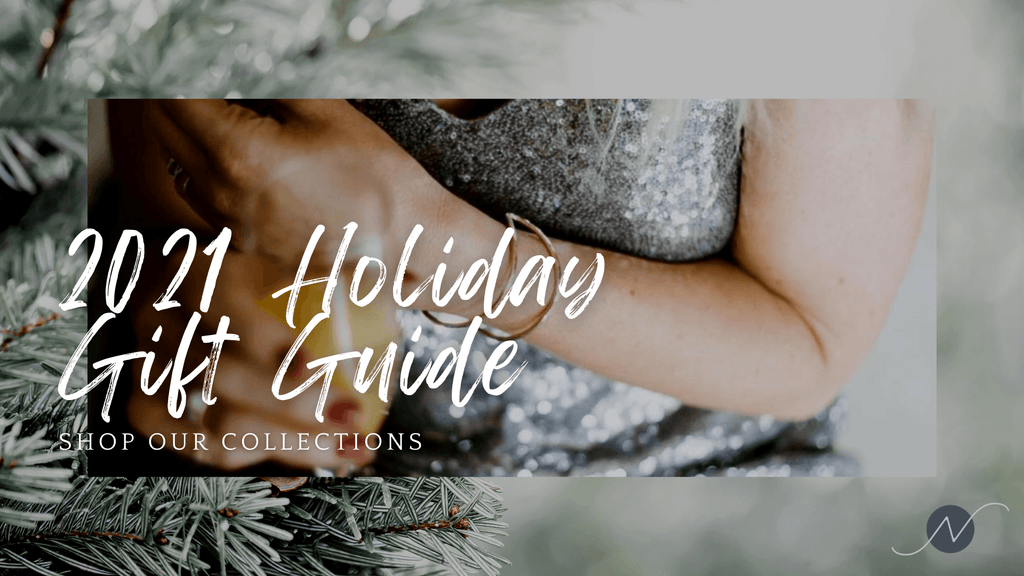 To us, the holidays mean spending time with the people that we love and cherish. Because life is full of the unexpected, now's the time to focus on the peace and happiness our friends and family bring us each and every day. Better yet, let's show them!

Not every gift we give is the same. We must be intentional about the choices that we make. That's why our collections are the perfect way to share something unique and beautiful that reflects these special souls in our lives.

Let us bring you joy and confidence this holiday season!
Gift Giving 101
Picking out the perfect gift doesn't have to be stressful. Let's start with a few tips from our seasoned gift-givers.

When giving a gift...


Think about what the recipient treats themselves with. If you know what they like to indulge in, you may have the clues to a fabulous present they would love.
Consider the gifts you've seen them give others - Are they more personal? Casual? Fun? This may also give you insight into the things they want!
Ask a friend or family member for ideas - don't be afraid to use your resources; maybe they know something you don't!
Check out their design style - With this concept, you'll be sure to have an eye for similar gifts.

Now let's give you some ideas!

Every gift is memorable, which is why it's so much fun to let the personality shine through. At the end of the day, we all deserve to be surrounded with joy and this is the perfect time of year to spread smiles and spirit.
Start Simple

Need something simple and sweet? Shop our Muse Collection. A muse is a person - especially a woman - who is a source of artistic inspiration. This collection is a mixture of 14k gold and gold-filled jewelry handcrafted to inspire those around you. From dainty chains to simple studs, Muse has something special for everyone!
Gifts Under $50
Whether you're shopping last minute or conscious about cost, HARLOW is the answer! HARLOW is our sister line of jewelry offering beautiful designs at a more affordable price point. HARLOW jewelry and Box Sets are available in 14K gold plated or silver plated. They are perfect gifts for loved ones who are passionate about their style and like to be ahead of the trends.
Getting Personal
Customize your jewelry with our Identity Collection. Each item is hand-stamped, making every piece of jewelry unique, just like you. These one-of-a-kind keepsakes are personalized, intimate, and charming. Extend the meaning behind your gifts. You'll be sure to tug at those heartstrings!
Know someone who loves giving back?
With each purchase at Nashelle, a meal is donated to those in need. You can't go wrong here. We believe in the power of supporting and empowering our local communities - so not only are you giving the gift of gorgeous, handcrafted jewelry, you're joining a community of conscious, caring individuals.
What about those eco-friendly friends?


We do our best to source the most sustainable, ethical materials. Shop our raw gemstones and recycled-precious metals. Leave little impact on our environment and safely share this planet with the ones you love!
Diamonds Are Forever
A dainty and elegant approach to classic design, the new Diamond Collection offers exquisitely eye-catching styles and conflict-free, natural diamonds. Don't forget this contemporary line with a hint of retro charm! The hammered texture creates a gorgeous space for handset diamond detailing, making this small collection: simple, timeless, and unique. You'll be sure to "Wow" your gift recipient!
Finally, Fine
Created with intention and love, our Fine Jewelry Collection is sleek, classic, and timeless. You can't go wrong with beautiful 14K gold! This collection is absolutely gorgeous and entirely distinct. With a higher price point, you're making the ultimate statement. These are forever pieces for your forever people!

Our jewelry is all handmade, unique, and inspired by each true-life experience. The holidays are a fabulous time to come together to share a spirit that is generous in love and support. Gift-giving is just one little piece of the celebration, so make it count!