Ring In the New Year with the Best Version of Yourself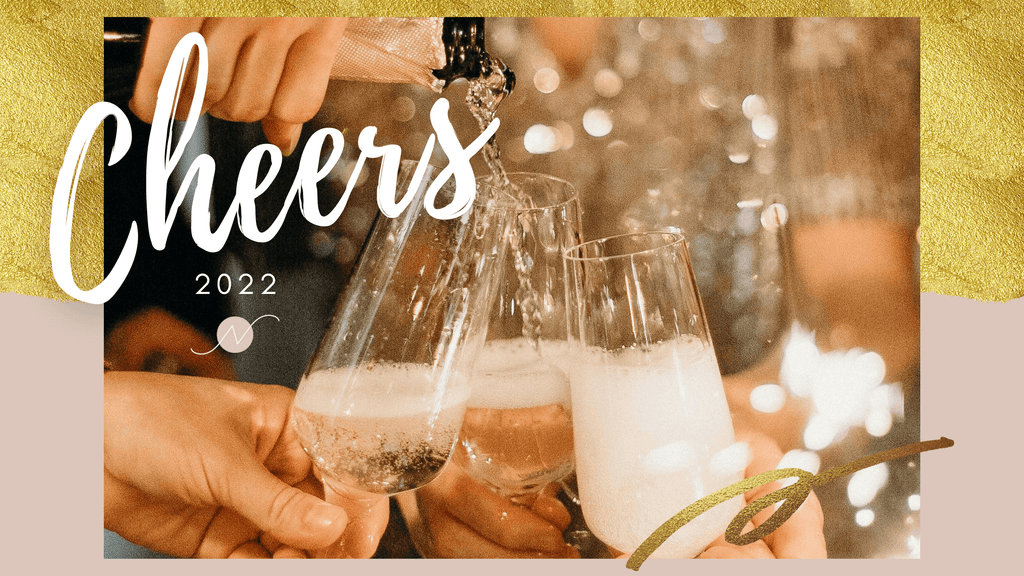 We've gone through a ton of changes this past year as individuals and together as a family and ladies, we've seen it ALL! As we take the time to reflect, we feel so empowered and grateful to be a part of such a wonderful community of strong, independent women. Your support has meant everything to us, and we see the beauty and grace that exists in each and every one of you.

To us, the new year means a new beginning. As we embark on this next chapter at Nashelle, we are setting new goals and dreaming BIG!

With time flying by so quickly, we thought we'd share how we prepare (both personally and professionally) for the upcoming season. The new year will be here before we know it! Let's make it our best yet with these simple yet powerful tips:
Tips for the 2022 New Year
Organize Your Time
Prioritize your tasks. It's so easy to get wrapped up in the daily grind and we all know how it feels to be stressed and overwhelmed. Taking the time to organize your to-do's and responsibilities can make all the difference. You can do this by making lists, using a planner, or plugging things into your phone or laptop (with helpful apps and websites like Trello, Monday, ClickUp, and more)! Even having your vanity and jewelry collection organized well will save you the time it takes getting ready in the morning. Having things all laid out allows you to focus and complete things with a clearer mind.
Set Goals
Write them down, expand on them, impossible is nothing! Nashelle has grown from a small, one-woman shop to a national brand. It all started with passion and the desire to create. We never know what the future holds but we do know that chasing our dreams and goals can teach us so much about ourselves and others along the way. Whether your New Year's goals are short or long-term, big or small, don't be afraid to make those resolutions and watch them unfold!
Get the Kids Involved
As you're working towards your own goals, consider teaching your kids about healthy resolutions! It's never too early for children to learn about responsibility and self-discipline. If your goal is to only shop from small businesses, bring your kids with you and teach them why it's so important. If you're a busy, modern-day mama, pass off some household chores to your kids to teach them a valuable lesson of responsibility. Foster a sense of unity in the new year and work together as a team. Not only will your kids learn important lessons at a young age, but it may even help you stay accountable!
Prioritize Your Health
New beginnings bring new opportunities to start fresh. As we enter the holiday season and approach the new year, take time to reflect on your physical and mental health. Checking in with yourself is so important. Make sure you're getting enough sleep, exercise regularly, drinking enough water, and tuning into your body and mind. The winter months can be tough so now's the time to give yourself some extra love and prioritize the things that make you a better version of yourself! When we take care of ourselves, we have a more positive outlook on life and bring joy to our relationships.
Clean and Declutter
Make your space shine! We all have those extra things laying around that we haven't used in years. For some of us, this may be clothes or jewelry pieces that we haven't worn in years. Minimalism is a huge trend right now – and for good reason! Take the time to declutter your wardrobe and vanity of items you don't wear anymore and focus on pieces that are minimal, yet elegant. Teasing out even a few things can make room for a cleaner space.
Stick to It
Sticking to your resolutions is in no way easy; it takes discipline, energy, and an emotional connection to truly commit. We hold ourselves accountable for everything we do here at Nashelle and are so lucky to have a family of likeminded women to connect with. Let's cheer each other on!

Knowing we are all working hard in both big and simple ways to make our world a better place is inspiring. And what better way to celebrate a new year than to share it with YOU?!
Celebrate You
As we ring in the New Year, it's a time to reflect both the big and small moments you have gotten yourself through. You deserve to celebrate yourself and your accomplishments with something that makes you feel beautiful! A great way to do so is with a unique, personalized gift that holds significance.

If you haven't checked out our Identity Collection, it has the most perfect pieces for the new year and can serve as a gentle reminder that you are truly unique. Whether you're searching for a sentimental gift or treating yourself, Identity takes a more personal approach to our hand-stamped pieces. Choose your own design and bring more meaning to accessorizing. Who wouldn't want a one-of-a-kind keepsake?!

Nothing says, "Happy New Year!" quite like our Diamond Collection. A dainty and elegant approach to a more classic design, these pieces offer exquisitely eye-catching styles with a hint of retro charm. The hammered texture creates a gorgeous space for hand-set diamond detailing, making this small collection: simple, timeless, and unique. Best of all, this collection features conflict-free, natural diamonds and is handmade in Bend, Oregon.

Pair our Eternal Diamond Necklace with a simple black dress to dazzle those around you. The 3 diamond stones can represent loving your entire body, soul, and spirit, a perfect way to kick off the new year!

Looking for some classics with a twist? Our Kisses Diamond Stud Earrings are shiny, reflective, and the perfect size for an easy, eye-catching earring. We hand-set a single diamond at the point of the teardrop for additional sparkle, just for you.


Lastly, wow that champagne toast! Clean, fresh, and modern, our Diamond Bar Ring is beautiful on its own or stunning stacked in multiples, the options are endless!

We're so excited about what's to come and hope you are, too!

Wishing everyone a wonderful holiday season ahead and all the best in the new year. We appreciate all your continued support and inspiration you bring to our Nashelle team.

Hello, (almost) 2022!

XOXO, Nashelle