Pearls 101 | A Buyers Guide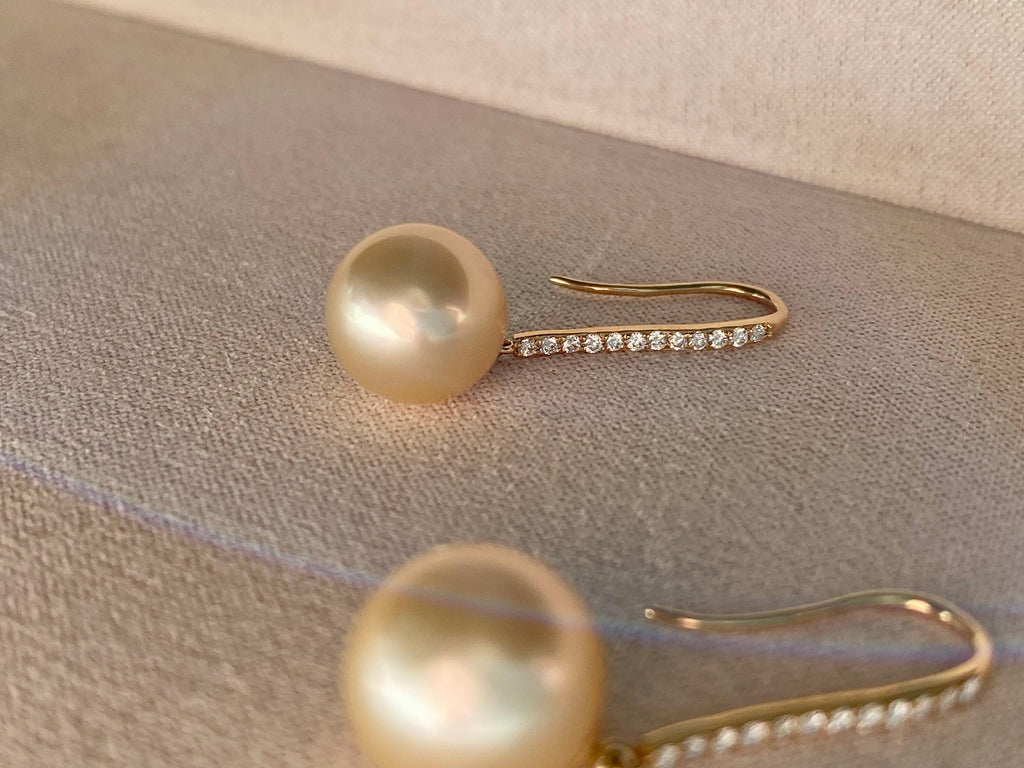 With the fashion world embracing pearls like never before, there is a buzz in the air about these timeless gems; so much so that Vogue asked, "Are Pearls the New Diamonds?" We think not, but they are the most classic compliment to the diamond as a gem can come.
Though they all have their unique beauty, pearls are far from created equal. You may have wondered why there is such a vast price difference when it comes to pearls, so this guide aims to shed some light on the basics for you. Our jewelry line features some of the finest pearls in the world. With a variety of saltwater and freshwater pearls, this guide will help you understand the differences between each of them, the grading system used to identify them, and what to look for when you order your next pearl piece.
Cultured Saltwater pearls (South Sea, Tahitian, Akoya) are more expensive than cultured freshwater pearls because the saltwater oyster typically produces only one pearl at a time. This makes them far more rare. Freshwater mussels can produce up to 30 pearls at one time. This, combined with  differing pearl qualities, as well as labor costs in each region, creates a wide range in the price of a pearl.
As a side note before we begin, if you have specific pearl requests, please contact us to let us know your unique preferences as we can access any pearls for you. All of our pearls are sourced sustainably and ethically and are always 100% natural with no dies used to alter the coloration of the pearl.
SOUTH SEA PEARLS
Let's begin with the creme de la creme. South Sea Pearls are the rarest and most valuable pearls in the wold. They range from pure white, to champagne, to a deep golden hue. Nurtured in the warm tropical lagoons and salty ocean waters of Australia and the Philippine Islands, South Sea Pearls are exceptionally luxurious. Known as the "Rolls Royce of Pearls", they feature a thick crystalline nacre layer, silky texture, bright glowing luster and a soft, shimmering iridescence. These are also the largest pearls in the world ranging from 8-21mm. Though our collection features mainly 10-11mm, you can request a larger size. These pearls range from a creamy white to champagne to deep gold. Generally the more rich the gold hue, the more expensive the pearl. For reference, a strand of these pearls ranges from $1,000 to over $100,000. If you value having something luxurious, rare, and timeless, South Sea is the pearl choice for you. 
TAHITIAN PEARLS  
Second only in value to the South Sea is the Tahitian pearl. Cultivated primarily in the clear, warm waters of Tahiti, French Polynesia, Tahitian pearls receive their unique colors from the Pinctada Margaritifera or black-lipped oyster. Precious by nature, cultured Tahitians aren't exactly black as they are often referred to. Found in a variety of shapes and colors, only nature can create such mysterious hues of onxy, grey, blue, green, and brown with extraordinary overtones of pink, gold, silver, aubergine and peacock. There is absolutely no human intervention and pearl color reflects the pristine colors of the lagoons where they are born. Tahitian pearls perfectly fit in today's market where consumers are looking for natural, organic, untouched products of fair trade origin. Depending on the grade, a strand of these pearls can range from $500 to over $25,000. If you love the variety of darker hues and character, Tahitian pearls are for you.
AKOYA PEARLS
Akoyas were the first pearls ever to be cultivated and are the most common type of saltwater pearls. These pearls form in the Pinctada Fucata oyster and are found in the hidden bays off the coast of Japan in the cold saltwater of the Pacific Ocean. Akoya cultured pearls come in various shades of white to rosé. All Akoya pearls come from Japan, and are harvested in the colder months from December to March when they produce lustrous pearls with the highest thickness of nacre. A strand of Akoya pearls ranges from $100 to $10,000. If you are looking for beautiful pearls before graduating to the South Sea, this is an excellent choice for you.
FRESHWATER PEARLS
Freshwater pearls come from freshwater mussels. Produced in Japan and the United States, freshwater pearls are most exclusive to China. As many as 30 pearls can be harvested out of one mussel and may continue to be reused as long as the waters are kept healthy and clean. These pearls range vastly in hue, shape, and size. If you are on a budget or wanting pearls for a trendy look, this is the pearl choice for you.
SHAPE
The round pearl (R) is a perfect sphere, diameter variation rate is less than 2%. 

The semi round pearl (SR) is slightly off round and difficult to differentiate by the untrained eye.  Diameter variation is greater than 2% but less than 5%.  

The oval pearl (OV), having at least one axis of symmetry it looks like a barrel or a rugby ball.

The drop (DR) is the rarest pearl; it is perfectly uniform on its axis and is sought after for pendants. 

The pearl button (BT), exhibits one axis of rotation and looks like a crushed pearl. It is best used for rings.

The semi baroque pearl also exhibits one axis of rotation but presents a circled on top on bottom third of its surface.  

The circled pearl (CL) is characterized by at least one concentric circle perpendicular to its axis of rotation located beyond the upper or lower third of the surface of the pearl regardless of its original shape.   

The baroque pearl (BQ) is generally irregular and differs greatly between pearl. 
SIZE
The size of a pearl is another important factor in determining the value of a pearl. This may not just imply being larger. For example, common sizes for the Tahitian pearls in our collection range from 8 to 10mm. Our "tiny" Tahitians run about 7mm making them more rare and expensive. Even though they are smaller, they are more valuable. So again, the more rare, the more the pearl will price for. 
LUSTER + NACRE
Luster is the deep inner glow of the pearl and its brilliance to the human eye. Luster is the most important indicator in evaluating quality as it separates the ordinary from the extraordinary. It is the very soul of this unique ocean gem that separate pearls from other gems. Most pearls luster is graded as Excellent, Very High, High, Medium and Poor.
The next factor in determining value is nacre coating. This affects the luster and the durability of the pearl. A thicker coating guarantees a better luster.  
SURFACE AND SKIN IMPERFECTION
This refers specifically to the abundance or absence of physical blemishes. Cultured pearls are grown by live oysters in natural surroundings, and there are numerous uncontrollable forces that affect the pearl surface. The fewer the natural markings or spots on the pearls visible surface, the more pricey the pearl.
Top gem Pearls (GIA AAA) are flawless, no imperfections and Excellent luster make those pearls the rarest of the harvest. They are the most expensive. 
A-quality pearls (GIA AA) are entirely smooth and with no more than one or two imperfections confined to less than 10 % of its surface. They also have Very High luster and only represent 5% of the production. Their extreme rarity adds significantly to their cost. 
B-quality pearls (GIA A+) are lightly blemished and imperfections are concentrated over less than a third of their surface. High luster.
C-quality pearls (GIA A) are moderately blemished and can have light imperfection to no more than two thirds of their surface and no deep imperfection over half of their surface. Medium luster.  

D-quality pearls (GIA A1) show light imperfections over 60% of its surface with a tolerance of up to 20% of deep imperfections. Poor luster.
We hope you found this guide helpful and look forward to helping you choose your new favorite pearl jewelry. Our pearl collection features all of the above, bringing you modern twists on timeless pearl classics. Click here to explore our pearl jewelry here.